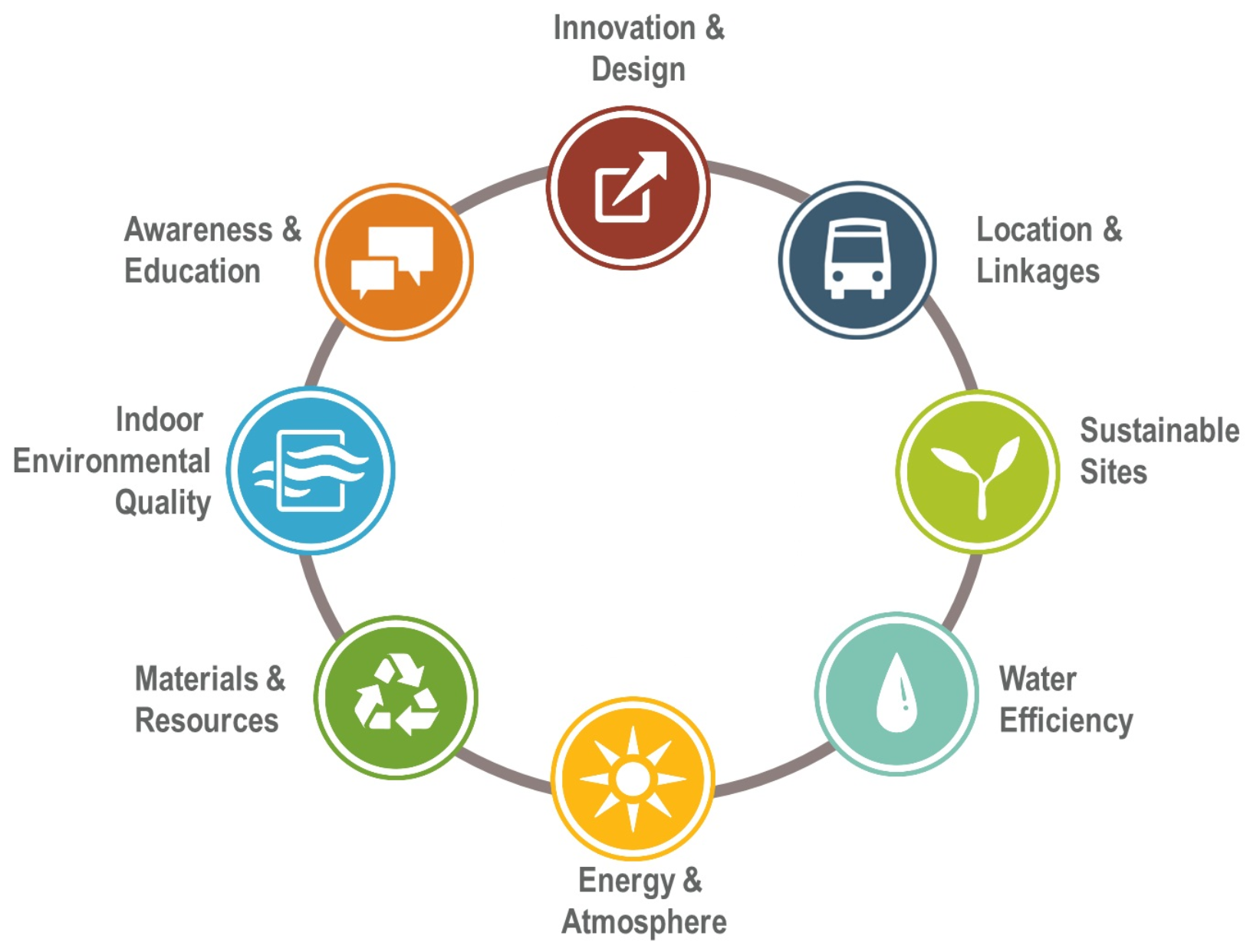 Innovation & Design Process (ID)
During construction, the general contractor spent time teaching the construction crews about the green elements specific to this building. The team planned for the durability of the project, looking closely at managing moisture in the building. Some decisions included not using carpet in the kitchen and bathrooms and providing floor drains in the shared laundry room. A third party validated that all durability items were done correctly. Innovation was met by selecting a site that was intentionally close to community resources, including public transit and a network of bike streets and greenways.


Location & Linkages (LL)
The site selected is not located within 100 feet of water, not built on public parks, or in the 100-year floodplain. Because the site had previous use, it provided several advantages of green land or virgin land. The site was already close to sewer, gas, and water connections, meaning there was no extra financial burden from bringing those necessary elements to the site. The site location also has outstanding community resources within a half-mile, including grocery stores, park space (Holladay Park), shopping, and schools.


Sustainable Sites (SS)
During construction, precautions were taken to manage erosion control by protecting sewer inlets, streams, and rivers with silt bags. The building was designed to have a high density—which limits impacts on land. The landscape architect selected noninvasive plants and limited grass areas, as it takes a lot of water to maintain grass. The roof of the building is comprised of high albedo material, which reflects a significant amount of radiation and decreases the amount of energy needed to keep the building comfortable for residents. We met city standards to provide stormwater quality control so that rain and snow events do not significantly contribute to river pollution. Nontoxic pest control solutions were implemented, including no wood within 12 inches of soil, and using concrete foundation walls, which are not attractive to termites. No new parking was created for the project, as it is located by several transit lines, and there are 240 secure, covered spaces for bicycles.

Water Efficiency (WE)
The high-efficiency irrigation system uses drip irrigation, timers, pressure-regulating devices, and a moisture sensor to minimize overwatering the landscaping. Inside the building, toilets are low flow. Showerheads and lavatory faucets are high-efficiency (less than 1.75 gpm and less than 1.50 gallons per minute) and the dishwashers are Energy Star rated.


Energy & Atmosphere (EA)
The energy performance was optimized to exceed 15% energy cost savings compared to code. Energy cost savings are expected to be above 24%.


Materials & Resources (MR)
The general contractor limited the overall in metal stud framing to 10% buy order precut stock, and not having to cut metal studs to size in the job site. The general contractor also reduced construction waste by diverting 82% of waste from landfills. The design team did not use any tropical wood and selected environmentally preferable products, including low VOC paint, adhesives, sealants, and insulation. Carpet and other flooring material are Green Label Plus Certified. Thin masonry brick on the exterior of the building is locally manufactured, as are the interior wood doors and cabinets.


Indoor Environmental Quality (EQ)
Combustion venting was managed by not using any unvented combustion appliances, ensuring carbon monoxide are in each unit. Outdoor ventilation meets ASHRAE 62.2-2007 in all units and ASHRAE 62.1-2007 for common spaces. In the units, an exhaust fan continuously operates to make sure bathrooms and kitchens meet ASHRAE 62.1-2007 airflow requirements. Bathroom exhaust fans are Energy Star labeled. Third-Party Performance Testing was completed on the installed system to validate that the system performed as designed.
Room by room load calculations to validate that space heating and cooling were evenly distributed.
During construction, ducts and vents were temporarily sealed during construction to minimize any contamination. Prior to residents moving in, the building was flushed out for 48 hours with all fans and exhaust running with clean fresh air.
To minimize any future radon contamination, a passive exhaust system was installed that meets EPA guidelines. The residential units are well above the ground floor and allow radon to dissipate in the air before reaching the residences.
Smoking is prohibited in the residential units and in all common areas of the building.

Each residence was constructed to be compartmentalized with special care to air seal and weather strip all walls, chases, doors, and windows. Additional testing was completed to prove that the enhanced construction measures significantly minimize under 0.225 cfm per square foot.


Awareness & Education (AE)
The property management group provided education to each tenant about the LEED benefits. An electronic tenant manual is available to the residents. When construction was completed, the building manager was educated on the LEED features of the building. This website provides information about the LEED features aids to the public awareness.